Forth Valley Smile Design
Family Dental Practice and Facial Aesthetics Clinic
Products
As well as stocking a comprehensive range of essential dental products we are delighted to offer our patients access to some of the most exclusive, luxurious and advanced dental and skincare products on the market. Backed up by scientific research, these products are a must have for yourself and are also the ideal gift for those who demand only the best. We proudly present swiss smile and SkinCeuticals.
---
swiss smile Day & Night is a revolutionary care system that combines the natural body requirements with lifestyle expectations both day and night. swiss smile Day & Night. For a brilliant smile during the day and a regenerating care during the night.
swiss smile day products freshen you up for a good day start! swiss smile day care products captivate the day with their whitening power. The active cleaning formula removes teeth discolorations and hinders build-up of new deposits. This special day protection formula accompanies for the day and strengthens the teeth again from the environmental, food and drinks stress factors. This also prolongs the whitening effect of professional bleaching and retards the new staining of teeth.
200% Whitening Power!
According to an investigative and comparative scientific study made by the University of Bristol the active substance used in swiss smile Whitening Toothpaste demonstrated over 200% higher cleaning and whitening capability than comparable toothpastes. It removed stains and accumulated deposits carefully from teeth surfaces without causing any damage. The formula contains no aggressive abrasives, chemical whiteners or harsh peroxides. It features a carefully examined medium abrasion value (RDA) of 90. This means that swiss smile Whitening is perfectly suitable for daily use.
Protected through the day
For daily protection swiss smile Whitening Toothpaste contains Triclosan and Sodium Fluoride. The combination prevents the proliferation of harmful bacteria deposits and protects teeth.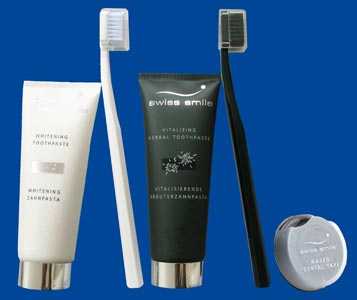 Teeth polishing bristles
The special patented bristles of the swiss smile Whitening Toothbrush contain micro polishing particles which ensure the removal of surface stains and brilliant teeth polishing. The fully rounded bristles and the straight profile of the bristles are gentle to the gums and perfectly clean off plaque. The toothbrush handle is constructed with an optimal ergonomic octagonal form with an angle that ensures complete comfort and control while increasing access to hard-to-reach areas.
The Power of edelweiss and other natural herb essences
Natural concentrates of Swiss herb essences activate the night time natural recovery forces of teeth and gums. swiss smile consciously excluded all aggressive ingredients from the formula to ensure its mildness. It is best applied on with the outstandingly gentle and soft micro bristles of the swiss smile Soft Toothbrush. The natural ingredients and mildness of application help to constructively cope with the acute environmental, food and lifestyle demands. In this way, your mouth and teeth receive the necessary care and materials that facilitate regeneration of structure and function.
The carefully chosen ingredients of the swiss smile Herbal Toothpaste support important repair activities of the tooth surfaces. 4 % of highly concentrated extracts from Edelweiss, Echinacea, Tea tree oil and Chlorophyll enhance natural regeneration processes. Edelweiss neutralizes free radicals, Echinacea strengthens the immune system, and tea tree extracts are naturally antiseptic and prevent bacterial growth. The gentle formulation of the swiss smile Herbal Toothpaste does not contain any aggressive cleaning agents. Its balanced abrasion value (RDA) is as low as 60.
Gentle Caresses
The fine and smooth, perfectly rounded, high density toothbrush bristles made from Curen® clean effectively while preserving teeth and gums. The swiss smile Soft Toothbrush contains three to six times more bristles than usual toothbrushes. These micro bristles adapt perfectly to the tooth surfaces and ensure the removal of any particles adhering on them, and they optimally distribute the herbal essences allowing them to do their therapeutic work.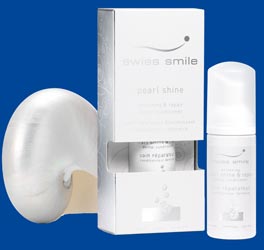 A revolution in dental care : Sensational Mother-of-Pearl Whitening foam
The new swiss smile Whitening Pearl Shine Dental Conditioner visibly brightens up and protects teeth using a revolutionary technology. The fine mother-of-pearl foam particles gently lift impurities from the enamel surface while the natural, nano-crystalline protective layer remineralises damaged tooth surfaces to a healthy pearly shine.
Visibly bright. Noticeably protected Exceptionally pure, extra-white nanocrystals are extracted from the natural mother-of-pearl of sea shells using a patented, highly complex process. Because the nanocrystals are identical in structure to dental tissue, they adhere seamlessly and unfold their natural repair effect on affected or exposed dental surfaces which are prone to tooth sensitivity and decay. swiss smile Whitening Pearl Shine does not contain any aggressive abrasives, bleach agents or acids. swiss smile Whitening Pearl Shine can be used depending on need 1x daily after tooth cleaning using the swiss smile toothbrush or by spraying directly into the mouth. It contains 1,0% of natural nano-Hydroxyapatit (nHAP).
Fresh and fine solutions for your daily care
swiss smile Waxed Dental Tape is made from Curen®, a finely waxed multi-filament, which does not expand. This is different to the normal nylon filament that expands on liquid contact. By remaining the same shape, it can glide into narrow interdental spaces easily. Its special structure makes cleansing easier and simpler. With its fresh mint taste and the unusual attractive bright colour selection, it invites daily use and maintenance that removes plaque for healthy teeth and gums. swiss smile Waxed Dental Tape contains 70 meters of tape
---
Founded in 1997 by dermatologists, SkinCeuticals discover, develop, and deliver innovative dermatology products that improve the overall health and appearance of the skin, using pure, pharmaceutical grade ingredients with proven scientific results. SkinCeuticals are market leaders in Vitamin C technology and were the first to develop a topical Vitamin C product using L-Ascorbic acid which has been proven to stimulate collagen, neutralize free radicals and is also an anti-inflammatory.
Serum 10 AOX+
Ideal for sensitive skin types or conditions to help restore healthy looking skin, Serum 10 neutralizes free radicals, defends against environmental damage, and helps prevent premature signs of aging. Now formulated with AOX+ advanced antioxidant technology, this lightweight, fast-absorbing serum combines ferulic acid with 10% pure vitamin C to enhance antioxidant performance.
C E Ferulic
This revolutionary new antioxidant combination delivers an unprecedented 8 times the skin's natural protection against photoaging - neutralizing free radicals, helping build collagen, and providing unmatched antioxidant protection. More protection means more youthful looking skin and better defense against environmental aging. Containing 15% pure L-ascorbic acid and 1% alpha tocopherol, the addition of ferulic acid doubles the already synergistic benefits of the original high-potency formula, C+E, transforming it into an unrivalled super-antioxidant combination.
Phloretin CF
Phloretin CF™ represents a new class of preventive and corrective topical antioxidant treatment. After five years of extensive research, SkinCeuticals developed this patent-pending breakthrough technology combining the newly-discovered, broad-range power of phloretin with vitamin C and ferulic acid in a biodiverse formulation to divide and conquer sources of damage at every level.
Physical UV Defense SPF30
Optimal for sensitive or traumatized skin and safe for children, Physical UV Defense is a true broad-spectrum UVA/UVB sunblock perfect for daily use. This cosmetically elegant, all-physical sunblock contains 5% transparent zinc oxide (Z-Cote®) and 10% titanium dioxide, two non-irritating active ingredients ideal for use on all skin types. Breakthrough dispersion technology minimizes the "whitening" effect commonly found in other all-physical sunscreens by equally distributing smaller sunscreen particles.
Advanced Sun Defense SPF30
UVA/UVB broad-spectrum moisturizing sunscreen with Mexoryl®SX/XL. Product Benefits :
Broad-spectrum UVA /UVB filters protect against premature skin ageing and cell damage caused by UV rays
Can be used as a moisturiser
Non comedogenic - will not clog pores
Cosmetically elegant sunscreen that is photostable
For all skin types and in particular for sensitive skin
Recommended for outdoor activities.
Coming Soon - Ultra Facial Defense SPF50
Hydrating B5 Gel
Enriched with vitamin B5, which is known to help with tissue repair, Hydrating B5 Gel replenishes nutrients the skin needs to feel smooth and appear younger. This moisture-enhancing gel contains hyaluronic acid, the body's natural hydrator, to bind moisture to the skin. Hydrating B5 Gel is recommended for use with vitamin C treatments and will help maximize the benefits of your daily moisturizer.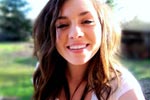 374 Main Street
Stenhousemuir
FK5 3JR
01324 552892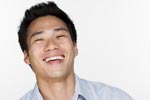 6 Weir Street
Falkirk
FK1 1RA
01324 621495